Aan het daten? Dit is jouw ideale partner volgens de sterren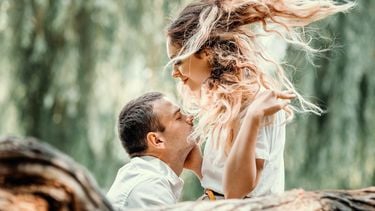 Je sterrenbeeld zegt veel over je persoonlijkheid. Het bepaalt niet alleen deels hoe je in het leven staat, maar ook hoe je met anderen omgaat en relaties aangaat. Ben je op zoek naar de liefde of ben je aan het daten en wil je weten of jullie een goeie match zijn? We raadpleegden de sterren om te kijken wat de beste combinaties zijn.
Check hieronder de astrologische dating gids en vind jouw kosmische match!
Astrologie is hot
Als je een paar jaar geleden aan iemand op een dating app had gevraagd naar zijn of haar sterrenbeeld, dan werd je waarschijnlijk direct geblokkeerd of uitgemaakt voor 'gekkie'. Tegenwoordig is het helemaal geen rare vraag, zeker niet onder jongeren. Hoe moet je anders weten of jouw potentiële rela een lange levensduur heeft?
Dat astrologie een opleving beleeft moge duidelijk zijn. 'Maanzusjes' Lieke en Jetteke van Lexmond lanceerden een Moon Calendar, astrologen groeien uit tot influencers op Instagram en de meeste mensen weten dat het leven tijdens Mercury Retrograde mogelijk even kan tegenzitten.
Zoektocht naar de liefde
Dating app Bumble speelde in op de astrotrend en heeft zelfs een sterrenbeeldfilter gecreëerd. Zo kan je als gebruiker matches kan zoeken met een specifiek sterrenbeeld. Ook bij Tinder zijn ze bewust van de tendens en zagen ze dat de term 'sterrenbeeld' wereldwijd een hot topic is in de app.
Bedrock Talks: een niet-zweverig verhaal over astrologie met modern astrologe Maannomade
Ten opzichte van dezelfde periode vorig jaar gebruiken bijna 75 procent meer Tinder-leden de term 'sterrenbeeld' in hun profiel. En dat is eigenlijk ook best begrijpen, aangezien astrologie ervoor kan zorgen dat je mensen op een dieper niveau begrijpt. En dat komt natuurlijk goed van pas bij de zoektocht naar liefde.
Astrologische dating gids
Mocht je nog op zoek zijn naar de ware liefde en jouw geluk zoeken op dating apps? Dan is het wel zo handig om te weten welke sterrenbeelden goed bij jouw dierenriem passen. Zo weet je waar je naar moet zoeken, welke filter je kan gebruiken of wat je moet vermelden in je profiel.
Check het in de astrologische dating gids:
Ram (21 maart – 19 april) 
Rammen zijn zelfbewuste en impulsieve persoonlijkheden. Ze zoeken meestal naar de regenbogen, zelfs wanneer alles grijs lijkt.
De perfecte match: de Schorpioen is de allerbeste zielsverwant voor de Ram. Ze worden beiden geregeerd door Mars en delen dezelfde passie, energie en intimiteit als ze samenkomen.
Stier (20 april – 20 mei)
Stieren zijn eigenwijs en koppig, maar ook betrouwbaar en sociaal. Op het gebied van daten weten Stieren precies wat ze willen, maar dat maakt ze ook ontzettend kieskeurig.
De perfecte match: Weegschaal is de beste match voor een Stier. Stieren hebben niet alleen een intense en gepassioneerde band met Weegschalen, maar weten ook hoe ze een Weegschaal kunnen troosten en stabiliteit kunnen bieden in een langdurige relatie.
Tweelingen (21 mei – 20 juni)
Tweelingen zijn levendig en extravert. Ze zijn degenen die van elke bijeenkomst een feestje maken. Bij het vurige, spraakzame en gevatte karakter van de Tweeling past een tegenovergesteld karakter. Juist door het contrast, spatten de vonken ervan af. Je weet wel, opposites attract.
See it in the stars: dit zijn onze favoriete astrologie-apps
De perfecte match: Weegschaal en Tweelingen zijn de perfecte match voor elkaar. Doordat beide sterrenbeelden Lucht-tekens zijn, zorgt deze combinatie voor sterke, mentale compatibiliteit, waardoor ze elkaars vibe goed begrijpen. Weegschalen kunnen zorgen voor de relaxte sfeer en ontspanning die Tweelingen nodig hebben.
Kreeft (21 juni – 22 juli)
Verzorgend, gevoelig en meelevend; Kreeften hebben een goed gevoel voor humor en zijn meestal liefdevol en easy going.
De perfecte match: waarschijnlijk vind je de soulmate die je zoekt in Vissen. Ze zijn emotioneel, liefdevol en intens. Net als Kreeften hebben ze ook een dikke huid die hen beschermt tegen tegenslagen van buitenaf.
Leeuw (23 juli – 22 augustus)
Ze kunnen net zo intimiderend overkomen als hun sterrenbeeld. Maar Leeuwen zijn loyaal, romantisch, gepassioneerd, onbevreesd en hebben de neiging hun eigen behoefte voor die van anderen te zetten. Leeuwen geven authentieke energie af en trekken liefde aan.
De perfecte match: Ram is je perfecte match. De overeenkomende authentieke energie en Vuurtekens maken hen dé ultieme combinatie.
Astro burn in de liefde: de minder leuke kanten van je sterrenbeeld in een relatie
Maagd (23 augustus – 22 september)
Maagden zijn meestal praktische en snelle denkers en geven als een van de besten – soms ongevraagd – advies. Helaas vergeten ze vaak hun eigen adviezen op te volgen, vooral als het om emotionele zaken gaat. Ze kunnen ook erg kieskeurig zijn als het om daten gaat, waardoor ze lang single blijven.
De perfecte match: Kreeft is de beste partner voor een Maagd. Wederom een perfect voorbeeld van opposites attract. Hun verschillen vullen elkaar aan met onvoorwaardelijke liefde en begrip.
Weegschaal (23 september – 22 oktober)
Weegschalen zijn vriendelijke, emotionele, romantische en gepassioneerde individuen, die geneigd zijn hun hart op de tong te hebben. Ze zijn in balans, maar alleen als ze dat zelf willen zijn.
Waarom astrologie zo ontzettend diep geworteld zit in ons bestaan
De perfecte match: een Weegschaal heeft hoge standaarden en wil iemand die die overal mee naartoe kan nemen. Een perfecte match zou dus een Leeuw of een Waterman zijn.
Schorpioen (23 oktober – 21 november)
Ah, de mysterieuzen en super geheimzinnigen onder ons. Schorpioenen zijn creatieve, gepassioneerde, gedurfde en vastberaden personen, die zoeken naar iemand die hun energie en vibe kan matchen.
De perfecte match: het kritische denkvermogen en engelengeduld van de Steenbok maken hem perfect voor Schorpioen. Samen creëren ze een praktische en gepassioneerde band, en de oneindige seksuele aantrekkingskracht zorgt voor vuurwerk tussen hen.
Boogschutter (22 november – 21 december)
Boogschutters zijn onafhankelijke denkers en risiconemers die erg bewust zijn als het gaat om emotionele intelligentie, wat hen helpt bij het maken van een directe connectie.
De perfecte match: een Boogschutter heeft iemand nodig die liefhebbend en open minded is, maar ook iemand die hen ruimte kan geven. Ram en Leeuw zouden beiden zeer geschikt zijn.
Steenbok (22 december – 20 januari)
Steenbokken zijn ambitieus, doelgericht en gaan graag op een georganiseerde manier te werk. Ze voelen zich aangetrokken tot zelfverzekerde, kalme, goedgeklede en goedgemanierde mensen.
Astrologie voor dummies: maak kennis met de taal van de sterren
De perfecte match: Schorpioen is de beste soulmate voor Steenbok, ze voelen elkaar feilloos aan. Schorpioenen zijn loyaal en betrouwbaar, precies wat een Stier nodig heeft.
Waterman (21 januari – 18 februari)
Waterman is onafhankelijk, origineel, interessant en behoort tot de aardigste mens op aarde. Ze zijn rustig, gevoelig en mega duidelijk over wat ze willen. Watermannen willen vrij zijn, maar tegelijk ook een vaste relatie.
De perfecte match: Tweelingen! Waterman en Tweelingen snakken beiden naar kennis en vullen elkaars ideeën goed aan.
Vissen (19 februari – 20. maart)
Vissen worden door sommige mensen vaak 'oude zielen' genoemd. Ze zijn emotioneel gevoelig, easy going en kunnen zich makkelijk aanpassen aan elke situatie.
De perfecte match: Waterman. Vissen en Waterman hechten allebei veel waarde aan de liefde. Ze geloven in een langdurige relatie en werken hard om deze te behouden.