Dit zijn de 20 mooiste en meest inspirerende quotes van Jay Shetty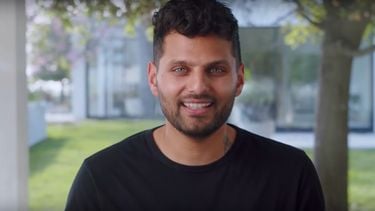 In de Bedrock-serie 'De mooiste quotes van…' delen we regelmatig inspirerende citaten van wijze mensen. Eerder kwamen Mathma Ghandi, Eckart Tolle en Jezus al aan bod. Deze keer delen we de 20 meest inspirerende quotes van auteur, levenscoach en voormalig hindoe-monnik Jay Shetty.
Deze Britse vlogger en motiverende spreker met roots in India is langzaam bekender en beroemder geworden dankzij zijn zeer inspirerende vlogs over bijvoorbeeld eenzaamheid of relaties.
De wijsheid van een monnik
Jay Shetty's verhaal is een interessante, hij woonde namelijk een speech bij van een monnik die de Business School waar Shetty op zat bezocht. De speech was zo aangrijpend dat Shetty hem achterna reisde in Engeland, waarna Shetty zelf tot monnik werd opgeleid.
Nu geeft Shetty zijn wijsheid en advies aan zijn miljoenen volgers op social media. Daarmee hoopt hij dat meer mensen betekenis kunnen geven aan hun leven. Naast host van zijn eigen podcast On Purpose is hij ook schrijver, van het boek Think Like a Monk.
De 20 mooiste quotes van Jay Shetty
"What you want exists. Don't settle until you get it."
"Money is only a tool. It will you take you wherever you wish, but make sure it does not replace you as the driver."
"If we never learn to be alone, we will always feel lonely."
"Don't worry about rejections. All you need is one person to say yes."
"Swap 'why is this happening to me?' to 'what is this trying to teach me?'. It will change everything."
"The thing about limitations is that they are only true as long as you believe in them. So, instead of believing in your limitations, start believing in yourself."
"A best friend is someone who loves you when you forget to love yourself."
"Turn your cant's into cans and your dreams into plans."
"Go the extra mile, it's never crowded."
"Never judge anyone, because you never know how their life is and what they go through."
"Don't let someone be a priority when all you are to them is an option."
"Yet in a world with so much information, we're somehow still missing the wisdom of life."
"Motivation comes from meaning. Everything comes from meaning."
"Our words have more power than we even believe. Our words define our reality. We need to pick them carefully. Make sure you taste your words before you spit them out."
"We need to redefine what success means. Let's not make happiness and success about the size of our homes, but about the size of our heart. Let's not make it about gratification, but about gratitude."
"The next time you see someone that you think is successful, don't focus on what they're doing now. Focus on what they did to get there."
"I love asking kids what they want to be when they grow up because I'm still looking for ideas."
"You are still young, and you aren't supposed to have your whole life figured out yet. Don't stress. Everything will work out."
"Reading changes your mind, applying changes your life."
"When nobody else celebrates you, learn to celebrate yourself. When nobody else compliments you, then compliment yourself. It's not up to other people to keep you encouraged. It's up to you. Encouragement should come from the inside."
Meer inspirerende quotes?