Dit zijn de 20 mooiste quotes van Osho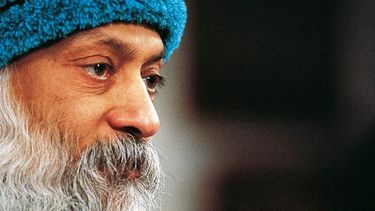 In de Bedrock-serie 'de mooiste quotes van' delen we regelmatig inspirerende citaten van wijze mensen. Eerder kwamen Mathma Gandhi, Eckart Tolle en Jezus al aan bod en vandaag is het tijd voor Rajneesh Chandra Mohan, beter bekend als Osho of de Baghwan. Osho was een Indiase goeroe en de stichter van de controversiële Bhagwanbeweging waarover vorig jaar de Netflix-serie 'Wild Wild Country' is gemaakt.
Volgens Osho's filosofie is ieder menselijk wezen een potentiële Boeddha met de mogelijkheid om verlichting te bereiken. Osho stelde dat iedereen in staat is om onvoorwaardelijke liefde te ervaren en het leven te beleven in plaats van te overleven.
(Omstreden) goeroe
Osho trok met zijn filosofie vele belangstellenden, maar wat Osho nog bekender maakt is de controverse rondom deze man. Zo had Osho een revolutionaire kijk op seks en de moderniteit, droegen zijn volgelingen alleen rode kleding en leefde hij in enorme rijkdom.
Hoewel Osho misschien wel één van de meest omstreden goeroes aller tijden was en er best het een en ander fout ging, heeft hij velen weten te inspireren. Daarom delen we 20 van zijn mooiste uitspraken.
De 20 mooiste quotes van Osho
"Drop the idea of becoming someone, because you are already a masterpiece. You cannot be improved. You have only to come to it, to know it, to realize it."
"Friendship is the purest love. It is the highest form of love where nothing is asked for, no condition, where one simply enjoys giving."
"My meditation is simple. It does not require any complex practices. It is simple. It is singing. It is dancing. It is sitting silently."
"To be creative means to be in love with life. You can be creative only if you love life enough that you want to enhance its beauty, you want to bring a little more music to it, a little more poetry to it, a little more dance to it."
"Be – don't try to become."
"Many people have come and left, and it has been always good because they emptied some space for better people. It is a strange experience, that those who have left me have always left places for a better quality of people. I have never been a loser."
"Life begins where fear ends."
"Truth is not something outside to be discovered, it is something inside to be realized."
"You feel good, you feel bad, and these feelings are bubbling from your own unconsciousness, from your own past. Nobody is responsible except you. Nobody can make you angry, and nobody can make you happy."
"The real question is not whether life exists after death. The real question is whether you are alive before death."
"Sadness gives depth. Happiness gives height. Sadness gives roots. Happiness gives branches. Happiness is like a tree going into the sky, and sadness is like the roots going down into the womb of the earth. Both are needed, and the higher a tree goes, the deeper it goes, simultaneously. The bigger the tree, the bigger will be its roots. In fact, it is always in proportion. That's its balance."
"Courage is a love affair with the unknown."
"If you love a flower, don't pick it up. Because if you pick it up it dies and it ceases to be what you love. So if you love a flower, let it be. Love is not about possession. Love is about appreciation."
"Be realistic: plan for a miracle."
"Creativity is the greatest rebellion in existence."
"Nobody has the power to take two steps together; you can take only one step at a time."
"Experience life in all possible ways: good-bad, bitter-sweet, dark-light, summer-winter. Experience all the dualities. Don't be afraid of experience, because the more experience you have, the more mature you become."
"Listen to your being. It is continuously giving you hints; it is a still, small voice. It does not shout at you, that is true. And if you are a little silent you will start feeling your way. Be the person you are. Never try to be another, and you will become mature. Maturity is accepting the responsibility of being oneself, whatsoever the cost. Risking all to be oneself, that's what maturity is all about."
"Intelligence is dangerous. Intelligence means you will start thinking on your own; you will start looking around on your own. You will not believe in the scriptures; you will believe only in your own experience."
"I love this world because it is imperfect. It is imperfect, and that's why it is growing; if it was perfect it would have been dead. Growth is possible only if there is imperfection. I would like you to remember again and again, I am imperfect, the whole universe is imperfect, and to love this imperfection, to rejoice in this imperfection is my whole message."
Meer inspirerende quotes?