Bullet journal-inspiratie: zo maak je de perfecte layout voor je weekly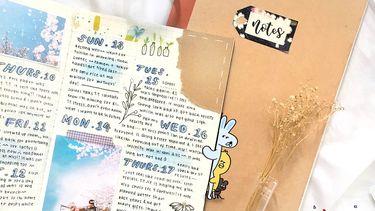 Een gewone agenda is allang niet meer 'in'. Voor persoonlijke groei wordt tegenwoordig vaak een bullet journal gebruikt. Een bullet journal is niet alleen handig als agenda, maar dient ook als plek om heel veel creativiteit in kwijt te kunnen. Daarnaast kun je de journal helemaal aan je persoonlijke wensen aanpassen, wat het systeem voor iedereen perfect maakt. Wij delen een flinke dosis bullet journal inspiratie voor jouw perfecte weekly. Je kunt een bullet journal zo uitgebreid maken als je zelf wilt. Vandaag beginnen we bij de basis waar een bullet journal het meest voor gebruikt wordt; de weekly. Als je je bullet journal indeelt met alleen maar weekly-pagina's, zul je zien dat het extreem veel op een agenda gaat lijken. In een weekly plan je namelijk alle afspraken die je deze week te doen hebt. Toch is een weekly veel flexibeler dan een voorgedrukte agenda, omdat je zelf de indeling van je weekly kan bepalen. Sommige mensen vinden het fijner om te werken met verticale vakken, iets wat je in een voorgedrukte agenda weinig tegen zult komen.
Je kunt een bullet journal zo creatief en druk maken als je zelf wilt. Vind je het fijn om minimalistisch en overzichtelijk te werken? Zoek op Pinterest dan eens op 'weekly minimalist'. Vind je het juist fijn om al je gedachten, notities en plannen bij elkaar te zetten? Ook geen probleem! Dat is het fijne aan een bullet journal: je kunt je weekly aanpassen aan jouw eigen wensen.
Een minimalistische bullet journal
Een minimalistische bullet journal hoeft absoluut niet saai te zijn. Sterker nog: een minimalistische layout van je weekly kan ervoor zorgen dat je rustig wordt. Je ziet in één oogopslag welke taken je nog moet doen, waardoor je bullet journal heel overzichtelijk is.
Minimalistisch betekent overigens helemaal niet dat je geen tekeningen of kleur in je bullet journal mag gebruiken. Gebruik juist zo veel kleur als jij wilt! Het belangrijkste aspect van een minimalistische bullet journal is dat het overzichtelijk blijft.
Dit vind je misschien ook leuk: 7 manieren om je bullet journal te gebruiken voor emotionele groei
Een creatieve bullet journal
Ben je juist helemaal niet van het minimalistische, en wil je graag al jouw creativiteit kwijt in jouw bullet journal? Doe dat dan gewoon! Je bullet journal is namelijk dé plek waar jij al jouw ideeën, tekeningen, lijstjes, to do's, schetsen en songteksten op een creatieve manier kwijt kan. Pak er kleurpotloden en markeerstiften bij, je kunt zelfs in de weer gaan met een schaar, papier en lijm. Niets is te gek! Wij hebben een paar bullet journal inspiratie ideeën voor je op een rijtje gezet waar jouw creatieve hart ontzettend blij van wordt.
Houd je niet van lege plekken in je bullet journal? De witte plekken kan je gemakkelijk vullen met kleine tekeningen en doodles.
Nog meer bullet journal inspiratie
Even geen inspiratie? Dit kan je ook nog toevoegen aan jouw bullet journal om jouw eigen stijl te bepalen:
Krantenknipsels
Afbeeldingen uit tijdschriften
Washi tape
Gedroogde bloemen
Waterverf
Krijt
Glitters
Leuk, al die inspiratie, maar wat is een bullet journal precies? Aan de hand van voorbeelden leggen we het je nog eens even duidelijk uit. Liever iets meer low key met een dagboek beginnen? Zo haal je het meeste uit je dagboek (voor persoonlijke groei).
En we geven de 5 beste ideeën om je bullet journal zo slim mogelijk in te delen.